As most of you have realized, I'm not usually a Monday person. I don't look forward to it, I don't enjoying planning for it, and I don't usually post on it.
But today will be the one exception because today is my SITS Girls feature day and I couldn't be more excited or honored for Mommy, In Demand to be featured!!!
But before I go on, let me explain why this is so awesome to those of you who don't know who exactly the SITS Girls are: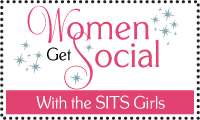 The SITS Girls (short for
The Secret is in the Sauce) are an online blog networking community of over 40,000 women created to help bloggers learn blogging skills, have an online support system, and to grow their audience (as well as turn your love of blogging into a paying gig).
Every week day they choose one of their 40,000 active bloggers to be featured, and today I'm it (this is my happy dance)!!!
If you are stopping by from the SITS Girls (yay!) please feel free to snoop around and comment until your little heart is content. I'm happy to have you here!
And don't forget to click the links to the right to "like" Mommy, In Demand on Facebook and to follow on Twitter and Pinterest. That way you're never too far away from the awesome-ness of Mommy, In Demand.
And if any of you are interested in checking out The SITS Girls, visit their webpage at thesitsgirls.com.
I highly recommend them to any blogger looking for an online networking and support community.
So, to the SITS Girls I would just like to say thank-you!
I feel so honored to be today's featured blogger. Truly, I do.