When you're sitting down for a great cup of coffee on a peaceful Sunday morning what is better than getting to know a new friend?
That is the premise behind the Sunday Sip Feature at More Than Mommies. Every Sunday they feature a new blogger as a way of getting to know the different blogs out there and build a blogging community!
And today is my feature day!
But before I start in on how honored I am to have been chosen for their weekly feature, let me share with you a little bit about the ladies behind the More Than Mommies blog.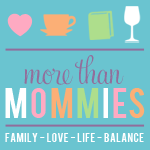 More Than Mommies is a blog started in 2012 by real life friends who share a love for family, learning, teaching, and writing; which makes blogging a perfect place for them to explore their interests and have been a perfect fit for them!
More Than Mommies has become a place where women (mostly mommies) come for advice, support, and honesty. They have obtained over 1,200 twitter followers and 950 facebooks fans which has made it wonderful for them to be able to reach out, connect, and share with their community.
They have worked hard to build relationships and trust with their readers and followers and have worked with some top name brands that you may have heard of: Hershey (Eeeek!), Method brand Laundry Detergent, Copy Kids, Chef Boyardee, Firehouse Subs, and Farm Rich.
I'd just like to say thank-you to these ladies for choosing Mommy, In Demand as this week's feature and I urge all of you Mommy, In Demand fans to please check the ladies of
More Than Mommies
out! I know you wont be disappointed in what you find!
If you're stopping by from More Than Mommies, welcome! Please feel free to snoop around and comment to your heart content. I hope you like what you see and will come back for more!
And don't forget to click the links to the right to "like" Mommy, In Demand on Facebook and to follow on Twitter and Pinterest. That way you're never too far away from the awesome-ness of Mommy, In Demand!
Also, please be sure to check out my Sunday Sip Feature!